Spring 2017
Orchids, Insects, Forests and Weeds: An Overview of Plant Ecology Research and Undergraduate Involvement at Farmingdale State College
3 p.m. Sunday, March 5th, 2017
The New York Botanical Garden, Watson Building, Room 302
Presented by Dr. Eric Morgan

Abstract: From the urban forests of New York City to the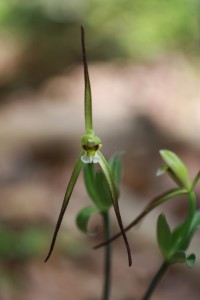 demographics of native orchids found within the Torrey range, a number of projects involving undergraduate students are ongoing at Farmingdale State College. Highlights of these works will be presented including both the field and lab aspects of several major projects involving students in my lab group, as well as new data from research on the relationship between some of our native orchid species and an insect predator of those species. While appearing wide in scope, many of these projects share a common theme in understanding the importance of plants and their relationship with the surrounding communities, especially those aspects that are often overlooked.
This lecture will be immediately followed by the Annual Banquet. The banquet will be held at Emilia's on Arthur Avenue. The price for dinner will be $30 including tax+tip. The dinner includes appetizer, salad, and an entree. Beverages will be provided by the society.
A Botanist's Vocabulary
6:30pm Tuesday, April 4, 2017 
Presented by Dr. Susan Pell and Bobbi Angell
Abstract: Ever encounter a botanical or horticultural term that stumps you? Join botanist Susan Pell and illustrator Bobbi Angell for this presentation-based journey through the creation and content of their book, A Botanist's Vocabulary: 1300 Terms Explained and Illustrated. Bobbi will talk about her creative process and approach to illustrating this book. Susan will present some of the botanical terms using Bobbi's illustrations, photographs, and live plant material. Both authors will sign books in the lobby before and after the lecture. Spring is about to spring and now is a great time to learn more about the structure of plants as they unfurl and sprout forward with the warmer weather and longer days.

Rags to Riches: Tales of Discovery and Conservation of America's Neglected Lichen Biodiversity
6:30pm Tuesday, May 2, 2017 
Presented by Dr. James Lendemer

Abstract: From New York to California and Nunavut to Florida there are thousands of lichens that call North America home. Just as conspicuous and beautiful as wildflowers, they have long been neglected based on the perception that they are little studied and impossible to understand. This lecture will dispel that myth and show that lichens stand at the forefront of botanical discovery in North America. Further it will illustrate not only that these remarkable fungi are highly threatened, but that meaningful advancements can be made to protect them.