Fall 2014
THE BEE: A Natural History
Wednesday November 12, 2014 – 6:30 pm @ The Central Park Arsenal
Presented by Dr. Noah Wilson-Rich, Founder & Chief Scientific Officer of The Best Bees Company, a beekeeping service and research organization based in Boston's South End. His research to improve honey bee health is based at the Urban Beekeeping Laboratory & Bee Sanctuary.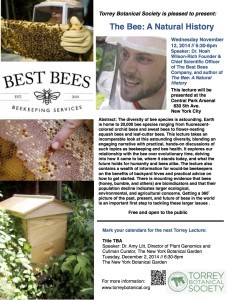 Abstract: The diversity of bee species is astounding. Earth is home to 20,000 bee species ranging from fluorescent-colored orchid bees and sweat bees to flower-nesting squash bees and leaf-cutter bees. This lecture takes an incomparable look at this astounding diversity, blending an engaging narrative with practical, hands-on discussions of such topics as beekeeping and bee health. It explores our relationship with the bee over evolutionary time, delving into how it came to be, where it stands today, and what the future holds for humanity and bees alike. The lecture also contains a wealth of information for would-be beekeepers on the benefits of backyard hives and practical advice on how to get started. There is mounting evidence that bees (honey, bumble, and others) are bioindicators and that their population decline indicates larger ecological, environmental, and agricultural concerns. Getting a 360˚ picture of the past, present, and future of bees in the world is an important first step to tackling these larger issues .
December 2, 2014 – 6:30 pm @ The New York Botanical Garden
Presented by: Dr. Amy Litt
Abstract: TBA
Spring 2015
Sunday March 1, 2015 – 4 pm @ The New York Botanical Garden
Presented by Dr. Susan Pell, President Torrey Botanical Society
Abstract: TBA
Once Upon a Time: Wily Nightshades and the Rebranding of Botany
Tuesday April 7, 2015 @ 6:30 pm - The Central Park Arsenal
Presented by Dr. Chris Martine, David Burpee Professor in Plant Genetics & Research and Director of the Manning Herbarium at Bucknell University
Abstract: The Australian bush tomatoes of the genus Solanum have been described as "gender-bending" plants with a penchant for manipulating bee visitors. Putting this system into an ecology and evolution framework has resulted in novel understandings of plant reproductive biology and led to the discovery of new species. It has also helped to generate the sort of dynamic stories that the teaching of botany often requires – including the use of new/social media to enhance the storytelling. At a time when botanical education and interest in plants each appear to be in decline, finding good stories and embracing new ways of sharing them are critical steps in the "rebranding" of Botany.
Tuesday May 5, 2015 @ 6:30 pm - The Central Park Arsenal
Presented by Dr. Eric Schuettpelz , Research Botanist & Assistant Curator, National Museum of Natural History, Smithsonian Institution, Department of Botany
Abstract: TBA
The December & March lecture will be presented at:
Arthur and Janet Ross Lecture Hall
The New York Botanical Garden
200th Street and Kazimiroff Blvd, Bronx, NY 10458
Get directions »
MetroNorth Harlem line trains stop at Botanical Garden Station. Subway D and 4 trains have stops on Bedford Park Blvd., and the connecting bus 26 stops just outside the Botanical Garden's Mosholu entrance.
See our calendar for all current events.


In extremely inclement weather, you can email the Program Coordinator, Uli Lorimer at ulrichlorimer@bbg.org with the subject line "Torrey Lecture Cancelation Inquiry" to inquire about lecture changes.