Fall 2017
Friday, September 15th, New York Botanical Garden
Founded in 1867, The Torrey Botanical Society is celebrating its 150th anniversary in 2017! This day-long symposium features a range of speakers addressing the past, present, and future of the flora and natural history of New York City and the region:
Jessica L. Allen: Lichens of New York City: Past, Present, and Future
Robert Naczi: What would Torrey do? Floras and floristics in the northeastern U.S.A. and adjacent Canada
Eric Sanderson: The Welikia Project: On the Historical Ecology of New York City
Lena Struwe: From Vasculums to iPhones: 150 years of botanical field research technology in a nutshell
Peter del Tredici: The Introduction of Japanese Plants into North America (with a Torrey Botanical Club Footnote)
To register, visit https://torrey150symposium.eventbrite.com/
Rural and Urban Lichen Ecology in New Jersey
6:30pm Tuesday, October 3rd, 2017 
Presented by Dr. Natalie Howe, Honorary Curator of Cryptogams, Rutgers University Chrysler Herbarium
Abstract: This talk will discuss some of the patterns in lichen ecology observed in NJ.  It focuses on the NJ Pinelands, an area of exceptional lichen diversity, and discusses the disturbance patterns associated with different lichen communities there.  The talk also covers some of the soil organisms and soil nutrient cycling processes associated with mats of Cladonia sp. on the forest floor in the Pinelands. The talk concludes with a discussion of preliminary findings from the Camden-Philadelphia Urban Lichen Project (C-PULP), which characterizes some of the patterns in urban lichen diversity in this fascinating urban landscape.
If you plan to attend this lecture, please click here to RSVP.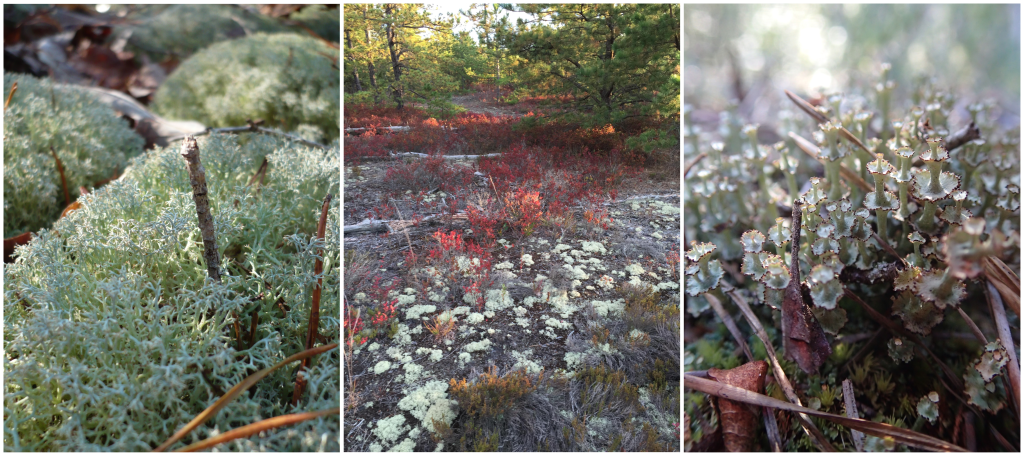 Above photos of New Jersey lichens by N. Howe.
Examining Patterns and Processes of the Invasion of Frangula alnus With An Integrated Model Framework
6:30pm Tuesday, November 7th, 2017 
Presented by Dr. Matthew Aiello-Lammens, Assistant Professor of Environmental Studies and Science, Pace University
Abstract: The establishment and spread of non-native invasive species harms native ecosystems, human health, and economic activity. Understanding factors leading to successful species invasions helps resource managers in their task of preventing future invasions. Integrating several ecological models, I investigated the processes contributing to the spatial spread of the invasive plant Frangula alnus. I collected historic occurrence records to establish the pattern of spatial spread throughout North America during the 20th century. I carried out a multi-year monitoring study to better understand the species growth, survival, and reproduction characteristics, and used this information to parameterize a set of integrated models. I found that moderate fecundity, high survival, and extensive long-distance dispersal values replicated the observed pattern. Strong interaction effects between fecundity and long-distance dispersal indicate that a successful invasion required both of these processes. Lastly, long-distance dispersal was most likely facilitated by human transport, demonstrating the important role we often play in species invasions. These results provide an indication of processes that likely contribute to plant invasions more broadly, which can be used to inform invasive species management and prevention.
If you plan to attend this lecture, please click here to RSVP.

Above photos of Frangula alnus by M. Aiello-Lammens
Evolution of vascular cambial variants in a large genus of lianas- Paullinia (Sapindaceae)
6:30pm Tuesday, December 5th, 2017 
Presented by Joyce Chery, PhD Candidate, Integrative Biology, University of California, Berkeley
Abstract: The wood anatomy of lianas (wood vines) in distantly related lineages have converged on the "liana syndrome", an anatomy that sets it apart from trees and shrubs. In some extreme cases, the liana syndrome leads to unusual activity of the vascular cambial manifesting as vascular cambial variants that take on a diversity of forms in different groups.  This talk will focus on the development and evolution in a phylogenetic context of vascular cambial variants in Paullinia (Sapindaceae) a large group of neotropical lianas. The talk will conclude with preliminary results and future directions of the speaker's dissertation.
If you plan to attend this lecture, please click here to RSVP.

Above photos by J. Chery
All lectures presented at:
Arthur and Janet Ross Lecture Hall
The New York Botanical Garden
200th Street and Kazimiroff Blvd, Bronx, NY 10458
Get directions »
MetroNorth Harlem line trains stop at Botanical Garden Station. Subway D and 4 trains have stops on Bedford Park Blvd., and the connecting bus 26 stops just outside the Botanical Garden's Mosholu entrance.
See our calendar for all current events.
See a list of previous speakers and lectures.


In extremely inclement weather, you can email the Program Coordinator, Jenna Dorey, with the subject line "Torrey Lecture Cancellation Inquiry" to inquire about lecture changes.